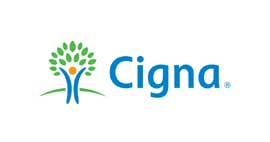 Cigna
Style Guide and Brand Guide Application for
Design and Production of Mobile App
Brand management is important to a large company like Cigna. You want your brand to remain consistent across all mediums, reinforcing a customer's experience and maintaining a positive identity. If done well, you can create a brand that is able to break through the noise and generate brand loyalty. Customers will recognize your company, your product, your service and through your brand. The most important part of brand management is ongoing maintenance and control.
Cigna had designed a new Style Guide for their brand management. They were looking to roll out these revisions in colors and layouts across their services. I implemented the guidelines set forth in the Style Guide and applied it to the MyCigna Application. I converted the RGB values to legible and ADA compliant Hex Values while remaining consistent with what the customer would expect. The functionality remained the same in the Application but the colors used for call outs and headers was changing to a new Palette. New fonts were also used as well as point size changes. The changes were done to ensure visibility to Mobile App users.
I created high-fidelity mockups for the programmers to roll out the revisions across the Application.