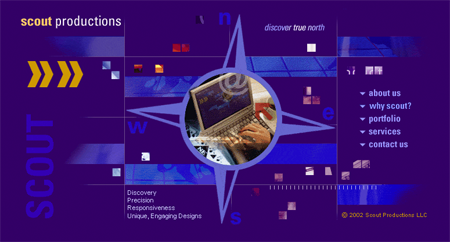 Visual Design by Scout 1.0
Scout had the fortunate opportunity of working on websites of varying sizes and scopes. The projects represented here are just a sampling of what we did in the past, from 1997-2002.
First and foremost, Scout provided a service to our clients.  We listened to their needs and goals, and developed solutions correspondingly. As our clients' needs expanded, so did Scout's solutions.
Building a website is a process. This process starts with research and planning, and continues through design and production, to the launch of your site and beyond. Developing a site doesn't end at launch, but continues with care and maintenance.
National Academy of Engineering
National Breast Cancer Coalition
Sherpa Hiking and Camping Guide
National Academy of Engineering
We did 2 projects for the National Academy of Engineering: Greatest Engineering Achievements and Engineer Girl!
Greatest Engineering Achievements
The National Academy of Engineering came to Scout for the creation of the "Greatest Engineering Achievements of the 20th Century" Web site. The goal was to celebrate a remarkable century of technological achievement. The Greatest Achievements Web site presented detailed histories and timelines of the engineering achievements that had the greatest impact on the quality of life during the 20th century.
From the site's welcome page, visitors could obtain information on a project, view press releases and a Webcast of Neil Armstrong's announcement speech, and jump directly to profiles of the achievements. An individual section dedicated to each of the achievements provided background information, a history of related events and individuals, and a timeline of important milestones.
During the weeks following the site's launch in February of 2000, it was well received and garnered many awards and notices. Several of these were:
"Best Bet" award on the USA TODAY Education Web site
Top billing and an A+ review in all categories from Education World
"Best of the Web" in the category of Science & Math: Engineering
At Internet World 2000, Galaxy.com, the Internet's original searchable directory, awarded the Greatest Achievements of the 20th Century Web site the honor of being the top Internet site in its vertical category.
Click on thumbnail image for larger view.
Engineer Girl!
To follow up on the success of its Greatest Achievements Web site, The National Academy of Engineering returned to Scout for the design and creation of the Engineer Girl! Web site. The goal was to create a dynamic and approachable site encouraging girls in the 5th through 8th grades to consider a career in engineering. The design needed to reflect this hip and ultra-web-savvy audience. (This was prior to smartphones.)
The site was largely dynamic and database-driven, allowing staff members to input important information effortlessly. Partnering with Diamax Information Systems, we used the underlying infrastructure currently in place at NAE, producing a site completely integrated into NAE's Lotus Notes/Domino environment.
The site also promotes mentoring and job shadowing, and provides useful information on what classes to study, should you wish to pursue a career in Engineering. Cool and interesting facts, Web links, and references all contribute to the effort to build enthusiasm for engineering. The site is still in existence today.
Click on thumbnail image for larger view.
Microsoft Consulting Services
Microsoft RAIS
We did a lot of work for Microsoft Consulting Services, for this project they needed a user interface design for their Microsoft RAIS (Rapid Administration Integration Server). Microsoft Consulting came to Scout for advice and assistance in the design process. Scout's role in the project quickly grew to include other aspects of the presentation layer, such as the creation of a Web-based Portal for the service.
Click on thumbnail image for larger view.
Vanguard Communications was an independent consulting company specializing in the design, development, and implementation of effective business solutions for customer contact.
Vanguard selected Scout to redesign and rebuild their website. The new site would portray Vanguard's services and skills to current and potential clients, present information in a manner consistent with Vanguard's prestige, reflect the personable approach of Vanguard's consultants, and highlight the leadership role played by Vanguard in the customer contact industry.
Scout assisted Vanguard in the creation of a new organizational structure for the site, and created a new visual design to fulfill the site's new design goals. The site was produced using Microsoft FrontPage to allow easy maintenance.
The resulting site showcased Vanguard's industry-leading consulting services, their extensive experience in customer contact, and their active role in the advancement of their industry through speeches, seminars, and publications.
Click on thumbnail image for larger view.
National Breast Cancer Coalition
The National Breast Cancer Coalition was the nation's largest breast cancer advocacy group, with more than 600 member organizations and 70,000 individual members and supporters. NBCC selected Scout Productions to assist with the redesign of its well-established website, www.StopBreastCancer.org. The redesign effort had several goals: to address several target audiences, including advocates, donors, researchers, and the academic world; to increase awareness of NBCC's programs; to improve the site's usability by simplifying navigation and presentational layout; to add dimension to the design; and to preserve NBCC's ability to update the site quickly and easily.
For inspiration, Scout was provided with a basic color scheme and samples of NBCC's recently printed materials. Scout created a bold, simple, and easy-to-use design that coordinated with NBCC's current image, improved usability, and widened the site's visual appeal.
To preserve the site's existing ease of maintenance, Scout modified the existing database-driven, ASP (Active Server Pages) based content management system. Changes were made in a way that allowed the site's existing content to flow seamlessly into the new visual design without modification. When the CMS was fully updated, the new design was launched quickly and without interruption to NBCC's ongoing editing and updating efforts.
The end result is a step forward for an already exceptional website which provided access to a wealth of information for anyone involved in the fight against breast cancer, including breast cancer patients, their friends and families, grassroots activists, researchers, scholars, organizations, state legislators, and members of Congress.
Click on thumbnail image for larger view.

GTI Technologies
GTI specialized in providing solutions for the manufacturing technology industry.  GTI came to Scout looking for a fresh new look. The company was expanding and adding to an already comprehensive line of manufacturing systems. They wanted their new site to reflect their stature in the industry and an increasing international presence.
Scout created a robust site offering in-depth information on GTI's growing product line. Users could find information on specific products, and contact GTI through the site for service, parts, and information.
Click on thumbnail image for larger view.
Sherpa Hiking and Camping Guide
Sherpa, an online hiking and camping guide created for a high-speed Internet service, provided a unique opportunity to push the envelope in technology and design. Our client's goal was to offer its subscribers information on hiking, camping and adventure without intimidation. The result is a site that both experienced and novice visitors can find useful.
Using Macromedia Flash, we created a splash page to highlight the message our client wished to convey to Sherpa visitors. The introductory movie can be bypassed at the click of a button, and automatically places visitors on the feature's main page upon completion.
A Flash-enhanced version of the main page was automatically displayed if a visitor had the Flash plug-in installed. An alternative standard HTML version of the page was created for visitors who did not have the plug-in.
Throughout the Sherpa site, visitors could research hiking and camping gear, obtain advice for beginners, and search for parks and camp locations across the country.
Click on thumbnail image for larger view.